Wearable Self - Personalized Data Jewelry
Data Visualization, Product Design
Project Timeline: Oct 2016 - Dec 2016
Categories: Product Design
Tools: D3.js (Javascript), Illustrator, After Effects, Laser Cut, 3D Printing
Fashion is often called as our second skin, and in the age of Big Data, our data also reflects our self identities since we all gathered our self-data from our smartphones and wearable devices. The idea of "Wearable Self" came from this whimsical thought of wearing our personal data on our bodies just like fashion. From this, I started a design project to create fashion items driven by wearable users' self-data, attempting to transform the quantified self data into tangible items, that can be memorable for wearable users, which shows your everyday steps form beautiful, illogical patterns of life.
We collect our data everyday: the era of self-data
With the maturity of wearable technology, we are all unconsciously gathering activity data from our everyday movement by the sensors on our smartphone and wearable devices. The quantified self, which is a movement to track and quantify every aspect of lives with tracking technologies, has started to go mainstream. People check their activity data on Apple's HealthKit app or Fitbit dashbord. Apple recently launched ResearchKit and uses iPhones to gather health data, enabling researchers to conduct studies using that information. As a designer, I attempted to utilize those self-data that belongs to us for creating unique products for data owners. Can those endless streams of self-data, which show traces of our lives, be more memorable beyond data dashboards?


How can I make meaningful connections between those numbers gathered by fitness trackers and data owners?
Users
Wearable Self aims to create a deeper connection between the users and their self data. By owning the tangible forms of personalized jewelry, users would feel significant ownership over their data. People revalue their daily activity data beyond data dashboards, expanding their personal experience and engagement with their data being collected in digital forms. Potential user of the data jewelry can be those groups below.
Interviews
I interview with several experts in this domains of mapping, sociology, self-tracking, fashion technology and data humanism at the beginning of the project. A lot of pioneers in this domain agreed with the idea of turning data into fashion which opens a business opportunity in terms of personalization and customization in fashion design.
Technology
The project exists where data visualization meets digital fabrication, where visualizing self-data and jewelry making is driven by digital fabrication technology. By converging those different areas and technologies, Wearable Self holds a unique position in personalized fashion and attempts to create a new business opportunity through customization.
Design Opportunity
I have observed a lot of runners in the city. Through the observation, I found the potential of utilizing personal data. there are big user groups who are tracking their data actively and passively. I decided to use step data for visualization because it's basic data that most people could have in their phones.
Design Production Process
I set up a design production process from data gathering to digital fabrication that can be repeatable. After figuring out how to collect and visualize the data, and get the SVG visualization made with d3, it became a repeatable process for anyone's data.
Through this method, the numbers would turn into personalized tangible fashion items through the digital fabrication process like 3d printing, laser cut.
To gather a year of daily step data, I used my iPhone Health app and Fitbit dashboard since those applications automatically count my steps. I also collected other people's data who actively use wearable devices in daily life.
Data Visualization
Each visualization on the left is generated by my daily step data. I used D3.js which is a Javascript library for creating interactive data visualization. Each shape growing outwards based on how many steps you take that day. The reason I chose daily step data was it's data that all people might have on their smartphone because it is automatically tracked which fits the idea of creating personalized items for everyone.
Digital Fabrication and Fashion Design
I have gone through countless prototyping process to turn the digital data visualization into tangible items, trying out different materials from papers, fabric, wood, leather to plastics. Material exploration was a key part of my project. The reason I finally chose plexiglass as the final material was first, it visually represents my shapes nicely. Secondly, the overlaying colors create a singular month as the colors mix together. Because my product is seasonally time-based, I researched seasonal color trends from WSGN which is a professional fashion trend analysis website.
A blueprint plan for laser cut.
Trend Research
Color Trends 2017 by WSGN annual fashion report.
I chose the colors of a year of data jewelry collection based on S/S and F/W 18 seasonal color trends conducted by WSGN.
Data Physicalization: Laser Cut, 3D Printing
4 weeks create one shape which somewhat looks like a flower. To turn my visualization into fashion items, I decided to separate each month into colors regarding the four seasons: spring, summer, fall, and winter because fashion is seasonal. And by going through digital fabrication process like laser cut, I got each tangible surface of jewelry.
Laser Cut and Handcraft Jewelry Production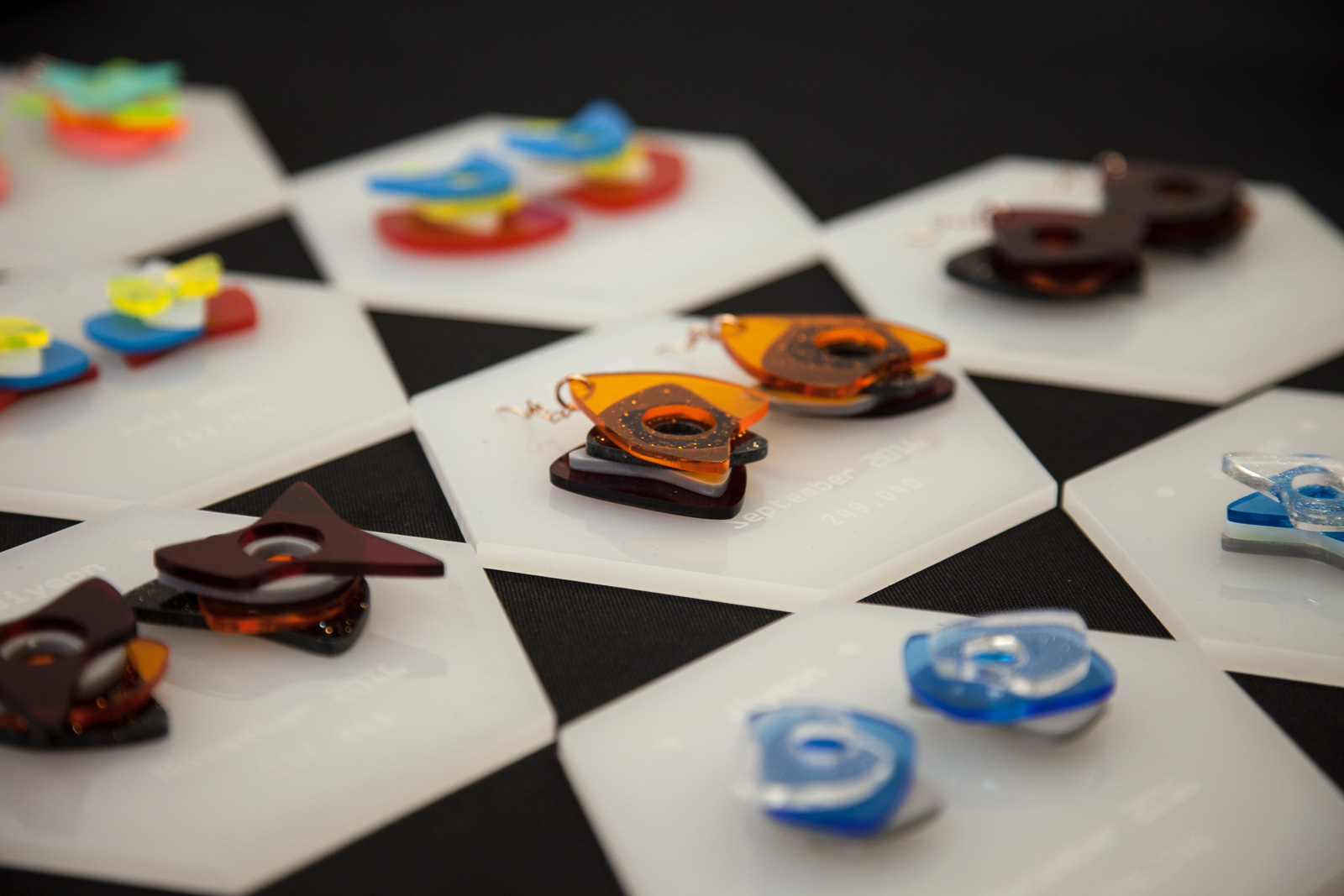 Through handcraft jewelry making process, I realized the value of craftsmanship and It was interesting to touch and feel the tangible pieces which are digitally generated from the screen on your phone to your earrings and necklaces in real life.
Final Product
The look and feel is Whimsical, and lively which evoke a positivity in life. In addition confidence and witty of modern woman. Choosing the ribbon that matches the colors of jewelry pieces required me a lot of try with different materials and colors. I finally chose a pastel multi-colored ribbon which looks like a ton-downed version of the pendant colors including red orange, mint blue.
3D Printing with Metal
3D printing with metal materials such as gold, rose gold and bronze.
Interactive Showcase & Exhibition at Parsons School of Design
I presented my project to hundreds of people who visited my thesis exhibition and showcase. Many experts from the industry gave me valuable feedback for the future development.
Symposium Presentation
At Parsons thesis symposium event, I mostly talked about my design research and making process from data gathering, data visualization to digital fabrication. I also had an interesting conversation with Dan Chen and other master's students, discussing the matter of data ownership in the age of big data and the future of digital fabrication and generative design which are in line with A.I. driven technology.
Mobile App UX/UI Prototype
Feature: Automatic Visualization + Customized order: Choosing colors and materials.
The project paper is submitted to Parsons The New School for Design (May 2017)
Wearable Self is introduced at Quantified Self conference in Amsterdam (June 2017)
Wearable Self is showcased in NYC Media Lab summit 17' at The New School in NYC (September 2017)